Index to Division of Animal Industry Brand Books, 1851-1920.
Series 540

Search by Name
To find a name, use the surname, givenname middlename. For example: Smith, John Henry
About the Records
Brand books contain all livestock brands and ear marks registered with the State Department of Agriculture. The first surviving book in the series is an 1874 cumulation that records all brands that had been issued in the territory since 1849. A second cumulative brand book was published in 1884 covering the previous ten years, followed by several supplements.Entries in the brand books include the brand symbol, name of the person registering the mark or brand, the location on the body of the animal, county of residence of the applicant, and the date the brand was recorded.
See the full description.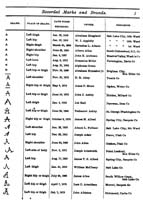 Images Available

Images created in partnership with the Genealogical Society of Utah.
Page Last Updated November 9, 2010.