Index to Sanpete County Clerk Death Register, 1898-1905
Series 15842
Search by Name
To find a name, use surname, givenname middlename. For example: Smith, John Henry
About the Records
These records contain death registers for the years 1898-1905. Each entry has the decedent' s name, date of death, place of death, term of residence, sex, color, race, age, occupation, cause of death, marital status, birthplace, residence, and name of informant.
See the full description.
The complete register is also online.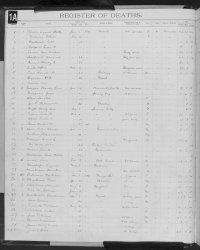 Images Available.

Images created in partnership with the Genealogical Society of Utah.
Page Last Updated March 18, 2010.